Stainless Steel Kennels
Shor-Line stainless steel veterinary Kennels are fabricated from our exclusive 2-piece unitised construction process, minimizing the number of welded seams. Less welds mean stronger and longer lasting kennels.
Shor-Line veterinary Kennels are constructed from the highest grade type 304 stainless steel material. Even the frame, trim hardware, screws and platforms are made of stainless steel. Shor-Line Kennels are totally modular. This means each kennel is manufactured as an individual unit, engineered for fit and finish to combine with others into one structural product.
When you put them together, they look custom built, specially for your kennel area. Installation is quick and easy. All stainless steel hardware (trim strips, trim plates and screws) attach the kennels together for a finished look. The kennels themselves have a front flange which overlaps the lower kennel or base platform, covering all horizontal joints.
A Mobile or Stationary Stainless Steel Platform to support the kennel assembly may be ordered from Shor-Line with your kennel purchase. Note: when planning space requirements, allow an additional 3mm width for every two kennels that are side-by-side.
---

1. Hardware
All Trim Plates and Trim Strips are made from solid stainless steel with rounded corners. No sharp edges or points.
2. Patented Latch
The latch is designed to be durable, secure and quiet. Acetal bushings provide smooth operation and sound dampening qualities. The concave latch bar design enables the kennel door to be opened with the forearm when handling sedated or awkward animals.
3. Sound Deadening Pads
New sound and vibration absorbing technology which comes standard on all Shor-Line kennels.
4. Kennel Door
The one piece frame and wrap around hinge/latch bars are formed from 9.5mm diameter solid stainless steel rods. All additional horizontal rods are 6mm in diameter and all vertical rods are 4.8mm in diameter. Every intersection of horizontal and vertical rods are welded, providing incredible strength.
5. Fully Rounded Corners and Fluid Retaining Lip
No 90o corners to trap germs and debris. A smooth rounded cove transitions the back and all internal sides of the kennel. A slightly raised, fluid retaining lip prevents drainage out of the front of the kennel.
6. Stainless Steel Frame
All frame members are made from heavy duty stainless steel to provide you many years of solid structural support from your kennel assemblies.
7-8 Hinge Design
Our hinge has been designed and developed for strength and utility. The hinge is constructed of 14 gauge stainless steel that is encapsulated by an injection moulded, fibreglass reinforced thermoplastic polymer. The snap together bushing on the door frame is also moulded from thermoplastic polymer with permanent, self-lubricating properties resulting in a silky smooth and silent swing. The new hinge design also allows for the quick and easy removal of the door for cleaning and reattachment without tools. Our doors, latches and hinges are completely transposable which allows you to change your kennel from a right latch to a left hand latch, or vice versa at any time.

---
You may also be interested in...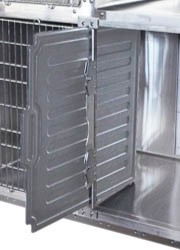 Kennel Accessories
Back to Top